Flipping
The flipping bite is still there to those willing to stick to it long enough to find the bass. Persistence as well as try enough different places is key. It is a slow process of eliminating water as much as it is finding bass. I use a 7.5 foot flipping stick rigged with 20 0r 25 pound line exclusively. Here is my rigs as I used them last: Clicking on these links will carry you to that page at Bass Pro Shops
Zoom ® Big Tube: Rigged with 1/2 weight pegged. 3/0 weedless hook. I feel tubes work better for fishing thinner mats as well as the holes in the thicker mates.
Zoom® - Salty Centipede 4": This has been a super bait for flipping this year. It get trough the grass fast and seems to really turn the bass on. Not to mention as it wears out you can rig it trough the other end, Cost tip there. I use 1/2 - 3/4 sinker and 3/0-4/0 hook to punch on in the thickest mats I can find. I mention pegging the sinker with a tooth pick a lot. You have to do this because the sink will sink without the worm many times, resulting in a wasted flip.
Zoom® Big Dead Ringer 8" or Now I my self believe in bigger baits for flipping. I will always try bigger first. The size bass we all want like big baits on Guntersville. If I fail using the bigger bait then I start downsizing, but not till I am sure it is not a locating error instead of a lure error.
My flipping trip consist of mainly river channel grass or main points leading into creeks. I like a mat to flip in while the boat remains in very scattered grass. You are unlikely to do well flipping while chopping up grass with trolling motor.
Rats / Frogs
Lets start by discussing rat and frog fishing. Why not each fall as the shallow water cools this type of fishing just gets better and better. It would not surprise me if we see some of the best since the mid to late 1980's. With the vast amounts of river hydrilla dying back so fast we will have lots of bait and bass alike looking for a place to go. Every year many pick the left over back water grass as a place to go next. In fall feeding is at it's prime. I try to find mats of grass close to deep water first. This helps to isolate coves and cuts worth my precious fishing time. Coves with tons of grass may not be as good as the areas with less grass. You are looking for matted grass or slim either one in fall. As far as colors are concerned I tie on a white and a black and fish them both for a time. If I do not have success I change only to a popping type on go at it again. Rat / frog fishing is easy fishing, only you must learn to combine three important factors, Heavy rod and heavy line while still making long cast.
Please visit www.snagproof.com to see their rat and frog selection. I feel their product have three very important features, sharp but strong hooks, soft but still weedless bodies and are heavy enough for the important long cast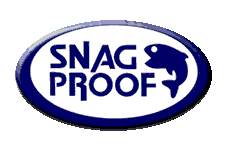 Buzz Baits:
Fall marks the best time for buzzbaits of the entire year. I have found this to be true every year, with the best time coming as late a December and water temps as low as 56. The main tips I want to stress here will be lure size, color and sound. To make a good buzzing trip better swap up a lot. No strike as well as short strikes mean one of these three factors are wrong. I start will say a 1/2oz buzzbait on one rod and a 1/4oz on another, but of the same color. After awhile I will start changing colors, but still throwing different sizes and sounds. You will find it takes something different each time you go.