Buzzbaits?
Oh yeah, it is time. Buzzbaits on Guntersville can be some of the most exciting fishing you may ever see. Even better is the fact you do not have to do a whole lot to make it work in most cases. I like trying just several different approaches to test this pattern. First I tie on a 3/8 –1/2 oz Bait in chartreuse with either a nice clicker or at least a good squeak. Next, I keep out a 1/4oz model to try in calmer or clearer water. Plus, I use the smaller bait as a come back lure after missing a bite with the larger bait.
That is about all one need to know to do well. I am going to give out the biggest buzzbait tip there maybe for Guntersville. During low or falling water level concentrate ether on the main river channel grass or main lake points. If the water level is high or rising move to the grass located in the back of the pockets and secondary points. Many times when you hear someone say the bass would not touch a buzzbait today, you can bet they had this approach backwards. Now we all know buzzbait fishing is better during low light conditions as found early and late and during cloudy skies. I feel one needs to try solid white and solid chartreuse before eliminating this pattern.
This map shows the types of places to look for when water level is high or rising.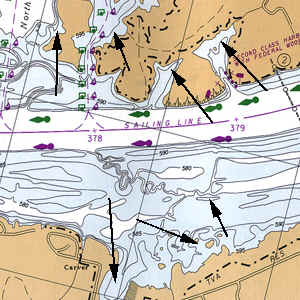 While this maps shows the types of places to look for when water level is low or falling.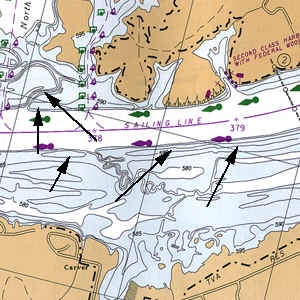 The most helpful tip I can give will be to vary your retrieve speed often. On some days they will blow up on a fast moving bait. The next day they will barely suck in one that is moving just fast enough to stay on top. Most of the time you will be fishing over grass, but do not hesitate to try these baits in open water, especially to try to catch feeding bass.
Thanks Everyone! Your support is what keeps me trying harder with each update!
All Rights Reserved © 2001 - 2003