| | |
| --- | --- |
| Click Around Guntersville Lake? | |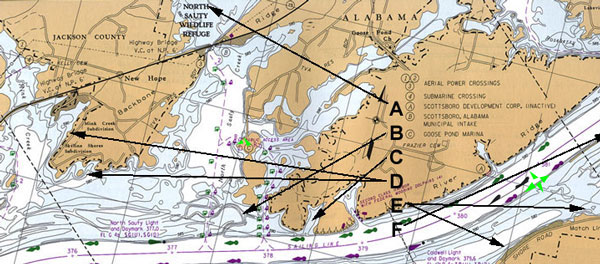 A) Above this bridge is a lake unto it self. Grass flats, bridges, stumps, hole you name it its back here.
B) The most unique creek in the lake. And the most fished. Good reason: 1. Ideal with grass wood and deep water, plus 1000's of bass released here from all the tournaments.
C) Great little pocket with deep bluff points going in as well as grass on the banks.
D) Might be the best boat houses on the lake. Great grass beds too. Top water fishing in here in low light conditions and you do not get bit, you doing something else wrong.
E) Great bank to check that has fish but little fishing Pressure.
F) Great area of the old river Channel.
All Rights Reserved © 2001 - 2003