| | |
| --- | --- |
| Click Around Guntersville Lake? | |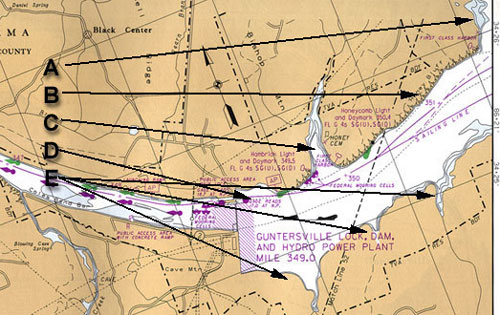 A) Nice place to fish if you like lay downs that lie into deep water. Great place to fish everything in sight with a jig or Texas rigged worm.
B) Deepest water in the lake. Deep bluff with little points and tress to fish. Might get a smallie here.
C) The best pocket on the lower end. Grass the fish on the left going in and deeper banks on the right, Awesome top water in the far back, few barge tie ups to fish too.
D) Lock side of dam and great rip rap to fish with crank baits and worms. KNOW THE DAM RULES
E) Little coves with great points for cranking and excellent lay downs to fish.
All Rights Reserved © 2001 - 2003