| | |
| --- | --- |
| Click Around Guntersville Lake? | |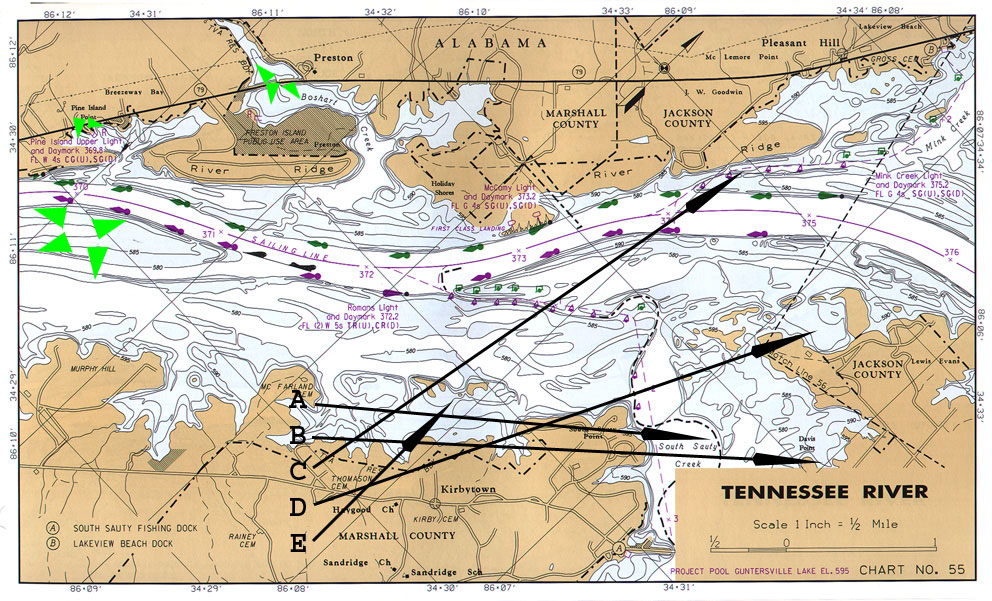 A) Text book creek channel. By studying and fallowing this creek you will find grass bed, creek bends and bank fishing along the way. Also it leads under one of the best rip rap bridges on the lake..
B) Great bank. You will find shallow grass beds. Docks, Great secondary points as well as a few stumps
C) Deep bank with few docks, tons of lay down trees and a few stump. Our first key to this being a good area is Mink Creek Channel swinging in so close. Grass too will grow in places along this bank. Notice the little cove to the left, might check it too.
D) Handy little cove here with 6 or more points to fish going in as well as lay downs. Cove is stocked full of stumps and some grass. Docks too.
E) Top water, top water. Here you go, all you could ever want. This whole cove has got it all. Points, stumps, grass, and trees. One could spend the whole day in here and just scratch the surface, no pun intended.
All Rights Reserved © 2001 - 2006